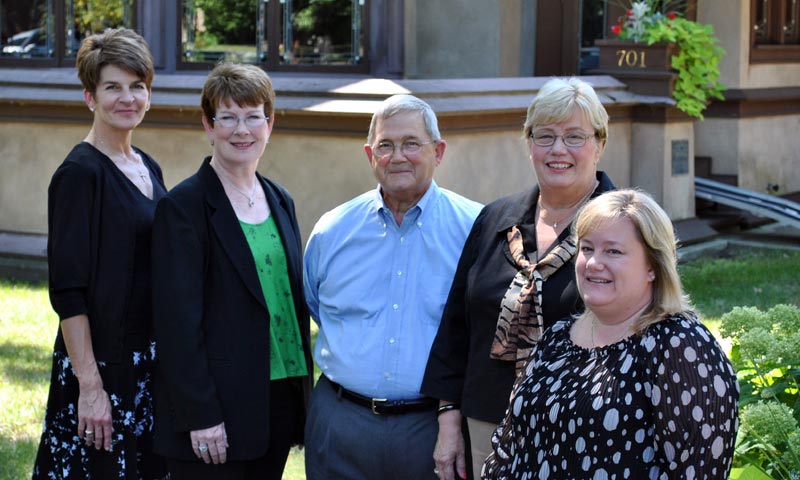 Scholarship funds at The Community Foundation of Kankakee River Valley have been established by individuals and organizations wanting to assist students in obtaining a college or vocational education. Each scholarship has their own set of specific criteria to determine eligibility. Filling out the Universal Application will let you know which scholarships you qualify for. Apply through the Scholarship Portal below.
Would you like CFKRV to host a Scholarship workshop for your students? Please contact This email address is being protected from spambots. You need JavaScript enabled to view it. for more information.
Now accepting applications
Submissions due: 2/28/2023
Stephen Seggebruch established the Donna J. Seggebruch Scholarship Fund in memory of his late wife, Donna. The Fund will provide up to two scholarships totaling $5,000 to a graduating senior(s) from Momence Community High School. Donna J. (Stein) Seggebruch was born in Kankakee on August 25, 1955 and grew up in Momence, graduating from Momence Community High School in 1973. During her time in high school, Donna was a member of the marching band, playing clarinet, and graduated as a member of the National Honor Society. After high school, Donna attended both Kankakee Community College and Governor's State University. She passed away in January 2022. Graduating Seniors of Momence High School may submit an application for consideration.
The scholarship provided by Proven IT is humbly named the "Do it Stevie's Way Foundation" Scholarship. Stevie was the son of Karen Bajenski, an employee of Proven IT. At the age of just 17, Stevie passed away due to complications while undergoing heart surgery. Stevie's memory is a reminder to all of us to live life with passion and to live in the moment. Graduating seniors from these eligible high schools: Bradley Bourbonnais Community High School, Kankakee Area Career Center, Central CUSD #4, Iroquois CUSD #9, Milford Area Public School District #124, St. Anne High School, Kankakee School District #111, Momence CUSD, Manteno CUSD 5, Herscher School District, Dwight High School, Peotone School District 207U, Donovan High School, Bishop McNamara, and Grace Christian Academy.
Herscher High School, along with the Community Unit School District #2 Board of Education, has established a partnership with the Community Foundation of Kankakee River Valley to streamline the local scholarship program at HHS. Scholarship applicants will have the opportunity to apply through one online application, and be considered for multiple scholarships and grants. These scholarships are available for graduating seniors and alumni if Herscher High School.
The Paulissen family created the Erica Lynn Paulissen Scholarship fund to honor her legacy and further the educational opportunities of local graduating seniors. While managing the Maple Street Dairy Queen and growing her own beauty and wellness business with ItWorks, Erica was just 5 classes away from a dual Bachelor of Arts Degree in Accounting and Finance from Governor's State University. An officer of Phi Theta Kappa Honor Society, Erica was driven overall to succeed as a female entrepreneur and support those around her in discovering their purpose. Erica's lifelong passions for literature, music and world culture were undeniable as you got to know her. During her short life, Erica dedicated her energy to developing a sense of pride and purpose that will continue to inspire. Erica's focus, maturity, warmth, and intelligence will be her legacy. Graduating seniors in Kankakee and Iroquois Counties may apply to this scholarship through the universal application.
This scholarship is in memory of John Locke, who died in a tragic automobile accident while attending the University of Missouri at Rolla. John graduated from Bishop McNamara in 2002. He was a scholar athlete in football, basketball and baseball. Although John received many honors in athletics, he will be remembered most for his character, his drive to be the best he could be at whatever he did and his desire to help others. He was always willing to help by volunteering in youth activities and at his school. This scholarship was set up to help provide financial support to students who reside within the boundaries of Kankakee County. The scholarship is based on academics (B average or higher, athletics) (varsity letter winner), and school/community service and involvement.
To apply for the John Locke Memorial Scholarship students should meet with their school counselors for an application.
Established in 2005, the Women In Networking Scholarship provides scholarships for women who live or work in the greater Kankakee River Valley area and who attend, or returning to, an institution of higher learning within the State of Illinois.
Mayor Chasity Wells-Armstrong's African American Civic Leaders Scholarship was established in 2018 by Chasity Wells-Armstrong, Mayor of Kankakee 2017-2021, to provide financial support to African-American high school seniors graduating from any high school within the City limits of Kankakee that wish to continue their education at an accredited college, university, trade school or apprenticeship program.