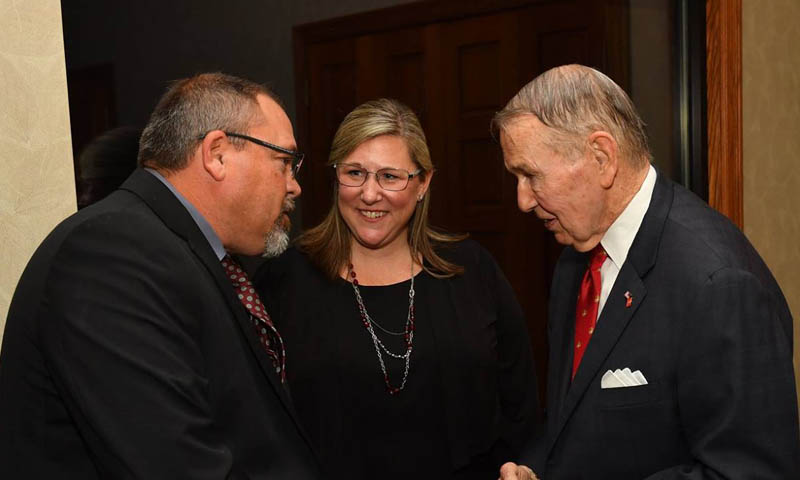 The Community Foundation of Kankakee River Valley was established in 1982 with the support of community donations. The Foundation receives monetary and other gifts which are invested. The interest earnings are redistributed throughout our service area to other worthy, charitable, educational, civic and philanthropic organizations. The principal remains invested.
The Foundation established the Legacy Society, a donors club, for those organizations and individuals who give larger, more significant gifts. The Legacy Society provides special recognition and privileges to its donors because their larger gifts provide perpetual benefits due to the collective size of gifts to this fund.
Legacy Society members pledge to give $5,000 or more in one or more payments over a 5 year period.
Legacy Society members also contribute by introducing their friends and colleagues to the Community Foundation. Legacy Society members also may assist by promoting general public awareness about Community Foundation programs and its local mission to enhance and enrich the communities and environment within greater Kankakee County.
The Community Foundation invites Legacy Society members to special Foundation events. This provides the opportunity to recognize Community Foundation programs and future directions while also encouraging the social opportunity to become better acquainted with others committed to community enrichment.
Please carefully consider the satisfaction you'll enjoy as a result of joining others from our communities who want to contribute to the enrichment and enhancements to the communities where we live.
Jim & Betty Bridgewater*
Jack & Gretchen Charlton
Robert Dunn Charitable Trust
Grand Victoria Foundation
Norm & Janice Strasma
United Way of Kankakee & Iroquois Counties
John Azzarelli Memorial Fund
Dennis & Georgia Hess*
Illinois Children's Healthcare Foundation
Marty Whalen & Kathleen Kennedy
Trudy Dickinson
Mrs. Burrell Small
Jean Thomas
AT&T
Gaines & Sharon Hall
Kankakee River Bike Club
Mark & Karen Strasma-Koenig Family
PNC Bank
William & Patricia Schatz*
Jan & Jane Strasma
Bob & Jenni Worth
HomeStar Bank
Kankakee Public Library
Peoples Bank of Kankakee County
Kay & Don Green, Susan Green Lopez and Steven Green*
Debbie Halvorson
Alex Panozzo
Carol Shidler
Julie Belan*
Roger & Nancy Benson
Paul & Donna Cardosi
Comcast Cable
Economic Alliance of Kankakee County
Kankakee County Chamber of Commerce
Kankakee Valley Park District Foundation
Midland States Bank
Steve & Carey Ortman
Security Lumber
Workforce Board
Zonta Club of Kankakee
Lynn Ahlden
First Trust Bank
Bill & Barbara Herzog
Larry & Mardene Hinton
Mrs. Edgar Johnson
Dr. Merl & Jean Parlin
Roy & Gretchen Rauschenberg
Amita St. Mary's Foundation
Anonymous
BASF Corporation
Bourbonnais Township Park District
Jim Jr. & Mary Bridgewater
Craig & Kathy Copper
Dr. David & Pam Debono
Dow Chemical Company
EDF Renewable Energy
Joe & Mary Franco
Scott & Linda Franco
Herscher Area Historical Society
Sean & Mimi Hogan
Terry & Mary Jo Johnston
Kankakee Community College
Kankakee County
Kiwanis Club of Kankakee
Dr. Thomas & Jane Koehler
Karl Kruse
Bill & Mary Lucek
Rick & Patti Manuel
Blair & Debra Minton
Ron & Jane Randall
Dr. Richard & Carolyn Ray
Dr. Jim & JoAnne Schwade
Richard & Janice Simms
Steve & Kathryn Smith
Paul & Val Snellenberger
Brian & Kristina Thomas
ABM Commercial Flooring
Kim Alberts
Don & Adrienne Albrecht
Ken & Alice Allers
Anonymous
Aqua Illinois
Harry & Debbie Bond
Arlene Bartolini
Dr. Syed Saeed & Rubia Bokhari
Rita Bowsher
Dr. Tom & Ann Brezinski
Michael Bruner
Mary Elise Burnett
Jim Bush
Marilyn Campbell Rashkin
Peggy Carlson
Clancy-Gernon Funeral Home
Kate Cloonen
Corsetti Structural Steel
Commonwealth Credit Union
Karen Cross
CSL Behring
Rose Devine-Mitchell
Jack & Sally Dorn
Jeff Downs
Lisa Dugan
Charlene Dybedock
William Dyon
Eimer Stahl LLP
Linda Engels
Cecile Enright & Frank Scheppler
Stephen & Nina Epstein
Exelon Generation Company
Dan & Dianne Ferris
First American Bank
For Goodness Sake Productions
Don & Joanne Frank
Laurel Gadbois
Bill & Merikay Gilmore
Joe & Claire Gregoire
Larry Groskreutz & Steve Schmidt
Jeannine Guebert
Raedelle Hall
Health Alliance Medical Plans
Ira & JoAnn Heiman
Memorial for Edmond Irps/Joy Hansen-Irps
Bob & Sandy Hoekstra
Glen & Janice Holmes
Michael & Elaine Holtzman
Carol Hoover
Gwen Hopkins
Wayne & Diane Hove
John & Sue Hutchinson
Iroquois Federal Foundation, Inc
Maureen James
Jeff & Amy Jarvis
Jimmy & Mileen Joines
Kankakee County Convention & Visitors Bureau
Kankakee River Valley Forest Preserve District
Kankakee Valley Construction Company, Inc
Kankakee Valley Park District
Thomas & Lori Kapusta
Earl & Relda Kelly
Alison Koenig
Madison Koenig
Natalie Koenig
Floyd Kohl
Amy LaFine
Dotty Lagesse
Beth LaPlante
Lori Latham
Sue & David Legris
Janet Leonard
Larry & Judy Linman
Mackin & Mest Agencies, Div of Dimond Bros.
John & Nila McCracken
Dr. Stonewall McCuiston
Dr. Lynn McDonald & Harold Berg
Meyer Construction
Anne Miller
Morgan Stanley Foundation
Nicor Gas
Mike & Nikki O'Brien
Olivet Nazarene University
Toby Olszewski
Oosterbaan & Sons Co.
Paramount & Meadowview Theatres
Bruce & Nancy Payne
Carol Pflasterer
Princess Onarga Questers
Yolanda Rahman
Dr. Renuka Ramakrishna
Robert Rashkin
Dennis & Cindi Reddish
Riverside Medical Center
Ron & Lolita Romano
Shirley Roth
Lisa Sanford
Tim & Karen Schmidt
Mary Self
Diane Smolkovich
Joe & Nicole Smolkovich
Standard Title Guaranty
Celia Stoltz
Deborah Sutherland
Melissa Tanner
Sylvia Thomas
Mary Thomson
Bill & Betsy Torman
Dave & Gigi Tyson
Mike & Areca Van Mill
Village of Bourbonnais
Village of Bradley
Vennis & Emlyn Voges
Volkmann Jewelers
Wes & Connie Walker
WVLI/WIVR Broadcasting
Dennis & Terry Yohnka
Joe & Sandra Yurgine
Karen Zander
*Donor-Advised Fund